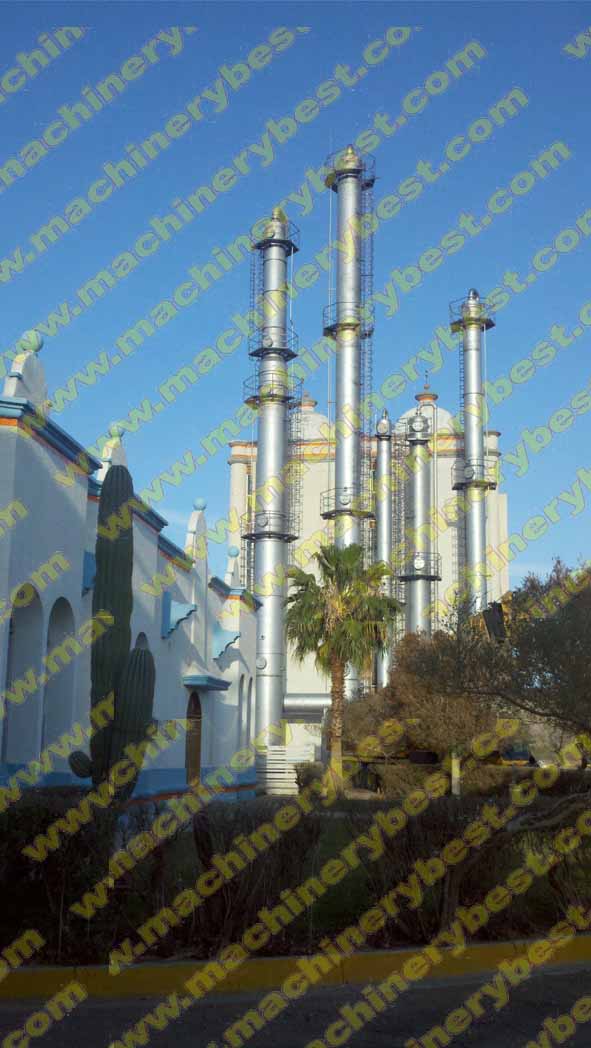 Taian Gaodeng Co.,Ltd ,Taian Tianhe company belong to one Group Co.,Ltd. Total 55000 m2 area, 10000 m2 workshop, 126 workers,27 engineers.
Main equipment:
1. ALCOHOL ETHANOL EQUIPMENT. Accordding customer different requirement, we can design and manufacture different process for alcohol ethanol equipment, you can choose 2 columns , 3 columns, 4 columns, 5 columns, for different pressure distill system, you can choose :3 columns, 4 columns, 5 columns, 6 columns, 7 columns, 8 columns, for energy save type , you can choose double mash column-double rectification column boil together system . for save money type , we can give you simple design, for the special require, we can design different column for treatment different material. even for old equipment, some spe. no good, we also can special design for them to get good quality.
2. DDGS EQUIPMENT. customer use wheat corn or sorghum etc product alcohol ethanol, the waste include much solid,the can use the waste to produce DDGS (animal food). Reduce pollution,and Gain profit.
3. CO2 RECOVERY EQUIPMENT. For alcohol ethanol fermentation section,CO2 will output during material fermentation. the CO2 recovery equipment can get it,Reduce pollution,and Gain profit.
4. MINI ALCOHOL ETHANOL EQUIPMENT Small capacty alcohol ethanol distillation equipment, special design for home and hotel used.
5. SOLID ALCOHOL ETHANOL EUQIPMENT Use 95% alcohol ethanol to produce solid or get alcohol ethanol, then the liquid alcohol ethanol will turn to solid or gel type, easily for transport or fire, also Increase usage security.
6.VINEGAR EQUIPMENT Use corn wheat sugar cane etc material or alcohol ethanol to produce edible standard white vinegar.
7.ACETIC ACID EQUIPMENT Use corn wheat sugar cane etc material or alcohol ethanol to produce HIGH PURITIES ACETIC ACID.
8.ETHYL ACETATE EQUIPMENT Use acetic acid and alcohol ethanol to produce high puritie ethyl acetate,can get edible standard product.
9.FURFURAL EQUIPMENT Use corn maize cob(hore) to produce high puritie furfual,can get edible standard product.
10.CRUDE OIL REFINERY EQUIPMENT Crude oil pre-treatment ,for remove salt and water , atmospheric section for get gasoline,kerosene, diesel oil,(then use hydrorefining process to get high octane gasoline and good quality kerosene and diesel oil) heavy oil feed to vacuum distillation section,then the resid oil can produce asphalt, the other VGO use catalytic cracking to get gasoline or diesel oil.
11.AUTO CONTROL EQUIPMENT whole set plant auto control system, include software and equipments.
12.3D DESIGN .